Series Part 1: The Dragon Island – Dragonera Natural Park
New series: Mallorca's fantastic diving areas
Part 1: The Dragon Island – Dragonera Natural Park
If you look west from San Telmo (or Mallorquin "Sant Elm") to the sea you immediately know where the dragon island Sa Dragonera got its name from. Like a huge sleeping dragon, the 4 km long and approx. 350 m high rocky island is not far from the beach of the westernmost village of Mallorca.
In just a few minutes you can take a dive boat to some of the most spectacular dive sites that Mallorca has to offer. Between the two ends of Cap Llebeig and Cap Tramuntana, there are fantastic diving spots, especially on the north side of the island, which are among the most spectacular things the Mediterranean has to offer.
Immediately after diving into the crystal-clear water, which with visibility of well over 30 meters and water temperatures of up to 29 degrees in August and September overshadows some South Sea destinations, it is clear what effects Dragonera had from beeing declared as Nature Park by the Mallorcan government in 1995. Since fishing is no longer permitted, a unique flora and fauna has developed here, which today enables divers to experience the Mediterranean in its original form.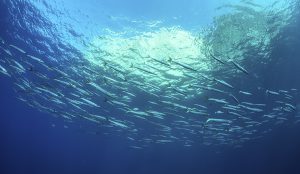 If you dive here with one of the few diving schools that have a license for diving in the nature park, you will experience special dives. Bizarre rock formations, grottos, caves, canyons and fascinating underwater landscapes form the backdrop for an incredible abundance of fish. Accompanied by the ubiquitous swarms of barracuda,lobsters, hermit crabs, bear crabs and moray eels can be found everywhere, between tooth bream, monkfish schools and impressive groupers. If you are lucky you will also see different types of rays, sunfish or even a seahorse. Occasionally a few dolphins stop by.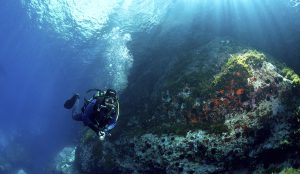 In the autumn the swarms of sardines come and in your tow you can sometimes watch huge swarms of tuna or mackerel while hunting. Even night dives, for example in the Tramuntana 2 canyon, offer an incredible biodiversity of nocturnal sea creatures such as scorpion fish or octopus.
If you want to experience all of this and dive in the Dragonera Nature Park, you can do this for example with these two SCUBANAUTIC.com premium partner centers: https://www.scubanautic.com/diving_center/scuba-activa/ 
or https://www.scubanautic.com/diving_center/baleardivers-tauchbasis/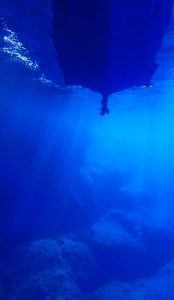 Foto: José Miguel Gonzalez Oliver